Kia Motors
---
How do you get India to love an auto brand without showing the car to be launched?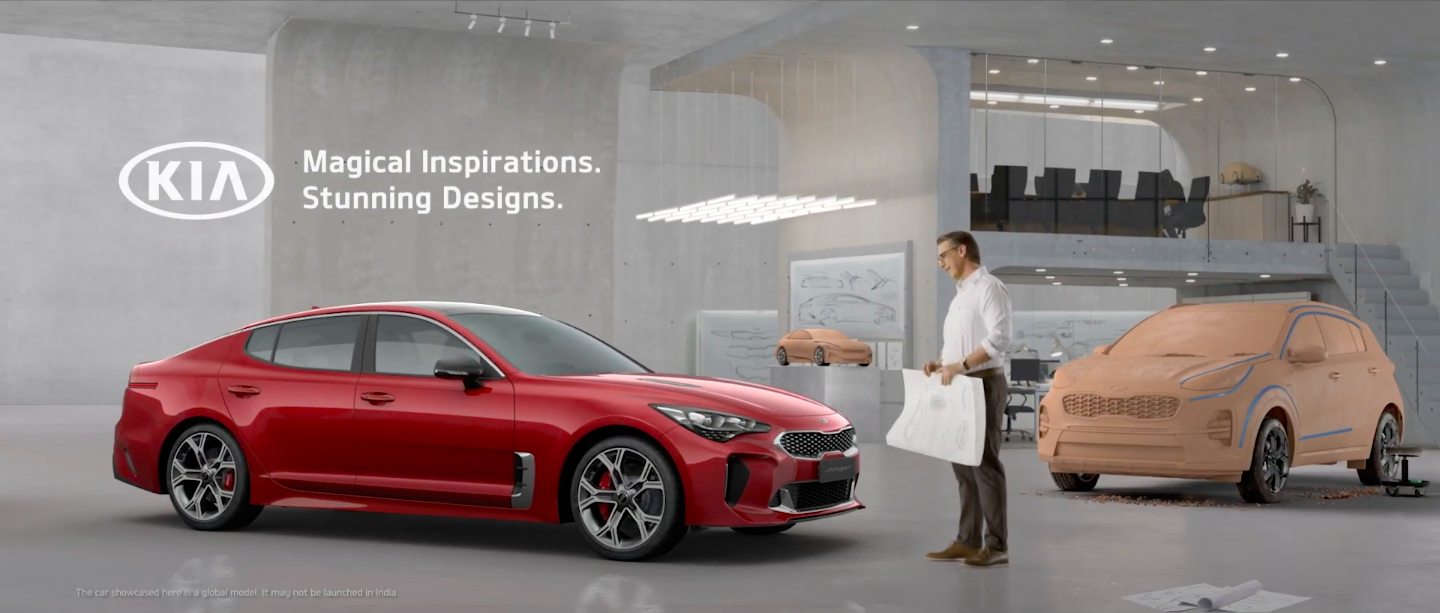 The challenge:
KIA was a new entrant in India with no products on road and no showrooms too. But the odds didn't end here. The following were challenges for KIA in the Indian market.

Marketplace, a battleground of giants: Indian 4-wheeler industry has around ~15 players but top 4 players own ~80% market share. The remaining 20% is split between other 11 odd players. Winning in this category meant taking on the giants!

The last mover disadvantage: KIA was probably one of the last auto majors to enter India. Here, seeing cars on roads works as the best validation for the brand. Widespread service stations network assures of a hassle-free experience and maintenance, mileage, resale value become a key consideration while buying the car. When this campaign was about to break, KIA had none of these – no cars the road (not even on its website) and no showrooms or service stations as that infrastructure was getting deployed.

KIA? That jewelry brand? Unlike many other auto majors such as BMW, Volkswagen, Skoda, where there was good awareness about the company before entering India and some anticipation too; consumers hadn't even heard of KIA Motors. Its aided an unaided awareness was 15.6% and 0.9% respectively. This was negligible compared to other auto giants with above ~90% awareness.

The only thing we and a handful consumers knew was, KIA is launching an SUV in Rs. 10-15 lacs price bracket, no other details were available. In automotive category, historically the product brands have helped build reputation for the masterbrand. But we had to build a reputation for the masterbrand to create a perfect launchpad for its product brand launch 6 months down the timeline!
Hence, the strategic communication challenge was to create excitement and preference about the masterbrand KIA Motors but without showing the product, without the performance details, without the tech features and without the price!

The Sideways Approach:
We looked at our reality. Consumers had no perception of KIA Motors. We had no product to showcase. We had to win consumers with the masterbrand appeal.
KIA's success story abroad was due to its well-designed cars and Peter Schreyer the Chief Design Officer and his team of designers were its architect. We went through almost every interview and written document that we could find to understand their approach to design. Some fascinating things came out. Just to mention a few, Peter Schreyer had kept a billiards ball on every designer's table to remind them about the beauty of clean designs. The signature front grille of KIA cars was an inspiration taken from the shape of a tiger's nose. With anecdotes like these we understood what went inside KIA design lab and we arrived at the insight.
Every great design always has a greater story behind it.
We converted this insight into a campaign idea 'Creating magic from magical inspirations. The idea was to bring alive the fascinating world that of imaginations and inspirations that resides inside a KIA design lab.
We believed this idea will lead to a very differentiated masterbrand campaign unlike most other auto campaigns that revolve around user imagery, product performance or just luxury and comfort features.
The Campaign:
Stemming from the insight, big idea for the campaign was about magical inspirations leading to cutting-edge car designs. We decided to bring alive what we meant by 'magical inspirations'. It meant unusual, myriad and spectacular! We wanted to demonstrate how almost anything in this world, be it a firefly or an astronaut or a ballerina, works as an inspiration for a KIA designer. The campaign was devised as a sneak peek into this fascinating world that resides inside a KIA Design Lab.
We were also conscious that whatever we do we should stand miles apart in terms of storytelling, visual treatment, tone and manner from any other auto campaign, to be able to capture the consumer's imagination with KIA Motors.
Another key consideration was keeping the consumer hooked for almost 6 months, till the actual SUV gets launched. So, the campaign was devised in the following manner:

Teasers: The teasers were aimed at activating the consumer's curiosity and telling them the KIA Motors – the global auto player is coming to India soon. The teasers were done in a way that consumer could find their continuation in the brand film.

Brand film: The brand film unveiled the design philosophy in full glory showcasing how magical inspirations are behind KIA's stunning car designs.

Follow up: The follow-up films were done to build saliency and reminders about KIA Motors before the car was unveiled. Again, the follow up films took a cue from the brand film and continued the story. Thus, all films over 4-6 months looked like one big campaign.

While the campaign surpassed all the effectiveness matrix such as awareness, brand search volumes, website visits, it also reached the fastest ever 100 Mn views on YouTube and became no 4 most watched ad in the APAC region.